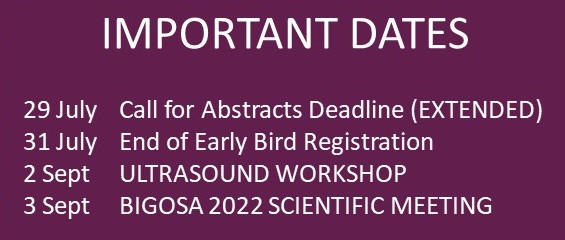 The BIGOSA 2022 10th Annual Scientific Meeting will take place as an in-person conference on Saturday, 3 September 2022 at the Southern Sun Elangeni Maharani under the theme "Breast Cancer in the Elderly – The Silver Tsunami".
As we transition towards a return to strengthening the BIGOSA community in person, we look forward to welcoming our attendees and partners to take advantage of the enhanced networking and in-person exhibition hall engagement.
Registration for the annual scientific meeting confers BIGOSA membership for the year. There are no separate membership fees.
The Breast Interest Group of Southern Africa (BIGOSA) was formed in 2011 by a group of medical professionals who realised there was a need for standardisation in breast healthcare in Southern Africa. One way of delivering on our primary objective is to empower all practitioners with appropriate skills through training and scientific meetings where breast healthcare progress and problems of interest to all clinicians and non-clinicians are presented.